Louisiana Eyes Sports Betting Revenue To Assist With The Children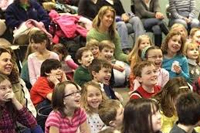 BATON ROUGE, La. – As we move closer toward the beginning of Louisiana's legislative session, lawmakers are ready to move forward with legalized sports betting in the state.
Though the Senate introduced a measure last year that failed in the Legislature, they look to mold this year's bill around funding childhood education.
No bill has been filed yet; however, Senator Danny Martiny (R- Metairie), who filed SB 266 last year, plans on drafting a similar bill this year.
Last year's proposal would have permitted Louisiana sports betting in casino and racetracks, pending approval from the residents in a voter referendum.
It's All For The Kids
According to the US Census Bureau, Louisiana has the second highest poverty rate in the nation and the highest rate of children in poverty at 28%.
Child Care Assistance Program supports families in need by providing financial assistance for families who cannot afford childcare. However, the program can't keep up, as more than 3,000 children under the age of 3 are awaiting aid.
Martiny is aware of the statistics and understands that helping the children through his unfiled bill will only help it be approved.
"You're not going to run into too many people who will tell you that dedicating money to early childhood education is a bad idea," said Martiny.
Assisting to fund the program would cost over $80 million a year and legalizing sports betting would contribute for a sizeable amount of this.
At a 10-12% tax rate, which is what Martiny is considering, the state would be projected to receive around $30 million from the tax contributions.
"My job as a legislator is to get the necessary votes to get the bill passed," Martiny said.
The lawmakers will have limited time to discuss the idea, as the 2019 Legislative Session convenes on April 8 and adjourns on June 6. However, Louisiana is no stranger to calling for special sessions to be held, for the state has had 4 of them over the past three years.
If the first stage of the passing a measure happens in the Legislature, voters would still have to approve the idea on this upcoming gubernatorial election, which is slated for October 12. Also, the Gaming Control Board must decide on regulations before the first wager can be placed.
Best Louisiana Sports Betting Sites - 100% Trusted + Safe
| | | | | |
| --- | --- | --- | --- | --- |
| | | 50% Up To $250 | VISA + Wire Transfer | |
| | | 50% Up To $1,000 | VISA, Bitcoin, Cash Wire | |
| | | 50% New Member Bonus! | VISA, Bitcoin | |
| | | 100% Up To $300 | VISA, Bitcoin | |
| | | 50% Up To $1,000 | Bitcoin, Wire Xfer, VISA | |